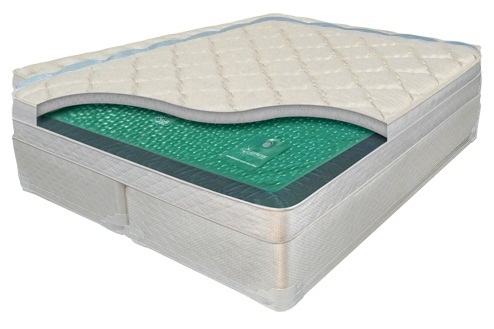 Relieve your back pain with one of our waterbed mattresses
Have you always been curious about the benefits and the sensation of a waterbed mattress? Become part of a population with reduced back pain and minimized pressure by purchasing one of our DreamWeaver waterbed mattresses today. With softside and hardside options, you can fall asleep on a mattress tuned to your specific comfort level.
Find the right firmness and style of waterbed mattress for you and your home by coming in to Reno Mattress Co., Inc., northern Nevada's only waterbed mattress retailer. We only sell you the best waterbed mattresses and accessories around to promote your highest sense of well-being and your greatest comfort.
Contact us today for more information, or to start your no credit check credit approval!
Get everything you need for your waterbed today
– Softside and hardside waterbeds
– DreamWeaver waterbed mattresses
– Chemicals
F
ind the waterbed of your dreams at northern Nevada's only waterbed store
– Liners
– Heaters
– Pad kits
– We also carry Air Beds and and can provide custom sizes
Extra Firm 80 % Wave-less

Has A 4″ Layer of Breaded Fiber That Floats At The Top of The Mattress. This Provides Motion Control, Firm Sleeping Comfort, And Immediate Surface And Edge Support.

Manufactured By, "Vinyl Products". The Oldest, Largest, And Leading Manufacturer of American Waterbeds.

Featuring The, "Fiber Wave Reduction Matrix" Certified By Dupont.

Exclusive Patented 3D- Lap Seam Construction, A Time- Proven Dimension in Seam Quality And Strength.


Since Vinyl Has A, "Memory" And Seems Which Are Welded Flat Want To Remain Flat, The 3-D Lap Seams Are Located On The Sides of The Mattress Instead of what Is Sometimes Called, "The L-Corner". This Way They Can Be Supported By The Water Pressure Against The Frame. In The "DreamWeaver", Mattress Seams Remain Flat For Maximum Strength And Seam Stress Reduction.


Vinyl Products Developed An Exclusive Test Called, "The Flex-Test" . All The Vinyl Bought By Vinyl Products Is Specially Formulated Super Vinyl With Superior Plasticizers For Maximum Strength and Subject to Strict Testing. Each New Shipment of Vinyl Is "Flex Tested". It Must Meet The Strict Specifications or The Shipment Is Rejected.


Has A Vinyl Products Comprehensive 14 year Warranty.

Years Full, 9 Years Prorated